If you arrived here because you are thinking about joining a running club then you have come to the right place. Why not come along to our Wednesday night training sessions and try out our friendly welcoming Club. Take out membership and enjoy the experience of Club running. Not sure if you want to join up - then try before you buy. Run with us as a guest for a few weeks before signing. See the Members' Page for more info.
---

Entries are now being taken for the 15th edition of the Club's annual 10k road race, set for Sunday 9 July. The event is a popular fixture for both club and non-club runners, and in 2017 will be the seventh race of the Warwickshire Road Race League. There is an extensive prize list and a junior run is being organised for the under 15's.
So, the countdown is on. You can improve your 10k time or move up from 5k to 10k by signing up to the Northbrook 10k training plan. You'll also get a free 10k race entry.
For more info visit our Northbrook 10k pages.
---

Staged on the first Wednesday of each month from April through to September, the Club's Summer Handicap Series of six races draws in a large number of Club regulars. There was another big turnout for the second race of the series on 3 May with 78 members and guests taking part.
In his debut handicap appearance Rory McPheators stormed round the 5km course in 16m29s, but first home was Emma Boyle who gained maximum points and has now moved to the the top of the women's table.
Now firmly on the comeback trail, senior Vet and Club President Tony French was second home, but Nigel McCann in 17th place on the night has taken over at the top of the mens' table.
Amanda Deavy maintains good form, finishing just 3 seconds off her record time for this course set in April.
The next race is on Wednesday 7 June.
Results
More details
---
One of the Club's summer evening events with a difference.
A relay race for teams of 3 people of different standards, eg a level 1, a level 3 and a level 4 runner can make up a team.
There's more info on the GBU page
---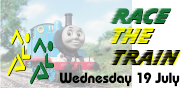 A Club night event that's different.
Travel by train to the start point and then race your clubmates back to the finish. Meet at Tile Hill Station at around 7pm in time to catch the London Midland 7.15pm-ish train to Hampton in Arden.
More details on the Race the Train page
---
Sunday Distance Training
Sunday morning Club training sessions focussed on the marathon distance will start soon. Sessions will leave from the Jag Club at 9am on Sundays. Targeted towards the Birmingham Marathon in October, the sessions will take in a variety of routes, with distances designed to get you in perfect shape for your race day.
Look out for Clive's club mailings or visit Clive's page.
---
Club kit
A range of Club branded running apparel is available to purchase at attractive prices.
Take a look at the kit page to see what's on offer.
---
Runners of the Month
March
Ben Smith
PB in Coventry half-marathon, fastest Club finisher in Sutton park relays.
Louise Myers
Very good runs in Coventry half-marathon and Sutton Park relays.
April
Steve Turvey
Sub 3 hour Marathon in Manchester.
Clare Rowntree
Good runs at Ashby 20 and London Marathon.
Podium Place for Deavy at Coventry Half-Marathon
Spurred on no doubt by the Club's support along the course Northbrook's Amanda Deavy raced her way to a 2nd place in the FV40 category at Coventry's Half-Marathon on 19 March in a time of 1:25:50. Rory McPheators was Northbrook's highest placed finisher coming in 7th in 1:16:29, followed by Stuart Lumsden in 9th in 1:17:49. The event looked to be in doubt when the original organisers pulled out, but it turned out to be another success with nearly 3000 runners taking part.
The Northbrook colours were much in evidence in the club zone stretching between miles 5 and 9, and 38 Northbrook runners took part.
---
Northbrook Awards Night
The annual awards presentation on Saturday 28 January, attended by nearly 100 members and guests, was the opportunity for Club members to applaud their running colleagues as they collected their well-earned trophies.
Guest of honour Tony Miller from Bruker, main sponsor of the club's 10k race, presented the prizes, and club member Chris Archer's band Re:offenders provided live music.


Thunderous applause greeted the winners of the voted awards, Spencer Davies as Club Person of the Year and Rich Cawley as Most Improved Runner both proving to be popular choices.

Club President Tony French presented a framed certificate to Bob Adams to mark his recent grant of Life Membership in honour of 32 years as a club member and a long-standing Club Chairman.
View the pics ...
---
Northbrook Road Race Champs
The Road Race tables are compiled from Summer Handicap results, and from results of qualifying races sent in to the web site. The latest tables have been published and Steve Turvey has taken over the lead at the top of the men's table with five distances completed. Corinna O'Connor has kept her narrow lead at the top of the women's table, also with points from five race distances.
Northbrook Road Race Champs 2017
---
Warwickshire Road Race League
A series of short and middle-distance road races starting with the Massey Tractor 10k in April and finishing with the Rugby 10 mile in September.
At the close of the 2016 season Stuart Lumsden and Peter Fellows were top-placed Northbrook competitors, each with 3rd positions in the SM and MV55 tables. Terry Moynihan was 10th MV45 and Jo Arden was 9th FV45. In the team placings, Northbrook Men finished 5th; Northbrook Ladies were placed 7th.
Read more ...
Go to Northbrook WRRL web page for Northbrook standings.
---
Committee Meetings
The committee meets every month to discuss Club matters and things that affect you. Read the minutes of the committee meeting on 8 May.
Training Schedules

Wednesday night training schedules for the next few weeks
Northbrook training sessions

Club diary

Current Northbrook club diary of club running events

Coventry Parkrun
Weekly Free 5km Timed Run

It's free but you must register in advance - go to Coventry parkrun web site
---
If you haven't yet come across this web site you might like to check it out. There's lots of useful stuff there, all beautifully presented, and there's a delightful animated video that's both amusing and inspiring.