If you arrived here because you are thinking about joining a running club then you have come to the right place. Why not come along to our Wednesday night training sessions and try out our friendly welcoming Club. Take out membership and enjoy the experience of Club running. Not sure if you want to join up - then try before you buy. Run with us as a guest for a few weeks before signing. See the Members' Page for more info.
---

With a record 620 finishers the 15th edition of the Club's annual 10k road race on Sunday 9 July was the most popular yet. The race was won by Coventry Godiva Harrier Alistair Smith in a time of 32m 49s and with a clear lead over second-placed Leamington member Paul Andrew (33m 17s). First woman was Jane Evans (Knowle & Dorridge) in 37m 53s, with Northbrook's Amanda Deavy and Anita Howe taking 2nd and 3rd women's prizes.
The 2km junior run was won by Ellen Taylor in an impressive time of 6m 1s. Second-placed Ryan Hill won the the boys' prize.
---

Staged on the first Wednesday of each month from April through to September, the Club's Summer Handicap Series of six races draws in a large number of Club regulars.
Race 5 on 2 August set off in light rain, but the later starters had more persistent rain to deal with. Nevertheless 72 members and guests took part and newcomer Sarah Boot was first home for Northbrook with Denis Gokaydin close behind and scoring maximum points for the men.
Jo Arden has consolidated her lead at the top of the women's table and Andrew Ralph has established a narrow lead to head the men's table.
The next race is on Wednesday 7 September.
Results after Race 5
More details
---
Despite the cool conditions and threatening skies there was an enthusiastic turnout of 23 teams for this relay race for teams of 3 people of different standards. Superb team organisation by Rich Cawley resulted in a close finish for the first few teams to complete the 3-mile undulating course.
Report and pics ..
---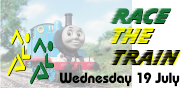 Escaping what had earlier threatened to be a damp evening three dozen or so members and guests ventured over to Hampton in Arden for the Club's annual off-road outing. Taking trails and footpaths interspersed with some sections of road they made their way from Hampton in Arden station over stiles and through nettles and some brambles back to Tile Hill station.
More ..
---
Sunday Distance Training
Sunday morning Club training sessions focussed on the marathon distance will start soon. Sessions will leave from the Jag Club at 9am on Sundays. Targeted towards the Birmingham Marathon as well as the Leicester Half-Marathon in October, the sessions will take in a variety of routes, with distances designed to get you in perfect shape for your race day.
Look out for Clive's club mailings or visit Clive's page.
---
Club kit
A range of Club branded running apparel is available to purchase at attractive prices.
Take a look at the kit page to see what's on offer.
---
Runners of the Month
June
Mark Parker
Improvements in many races.
Liz Pharoah
Comrades Ultramarathon.
Podium Place for Deavy at Coventry Half-Marathon
Spurred on no doubt by the Club's support along the course Northbrook's Amanda Deavy raced her way to a 2nd place in the FV40 category at Coventry's Half-Marathon on 19 March in a time of 1:25:50. Rory McPheators was Northbrook's highest placed finisher coming in 7th in 1:16:29, followed by Stuart Lumsden in 9th in 1:17:49. The event looked to be in doubt when the original organisers pulled out, but it turned out to be another success with nearly 3000 runners taking part.
The Northbrook colours were much in evidence in the club zone stretching between miles 5 and 9, and 38 Northbrook runners took part.
---
Northbrook Awards Night
The annual awards presentation on Saturday 28 January, attended by nearly 100 members and guests, was the opportunity for Club members to applaud their running colleagues as they collected their well-earned trophies.
Guest of honour Tony Miller from Bruker, main sponsor of the club's 10k race, presented the prizes, and club member Chris Archer's band Re:offenders provided live music.


Thunderous applause greeted the winners of the voted awards, Spencer Davies as Club Person of the Year and Rich Cawley as Most Improved Runner both proving to be popular choices.

Club President Tony French presented a framed certificate to Bob Adams to mark his recent grant of Life Membership in honour of 32 years as a club member and a long-standing Club Chairman.
View the pics ...
---
Northbrook Road Race Champs
The Road Race tables are compiled from Summer Handicap results, and from results of qualifying races sent in to the web site. The tables at 15 July show Steve Turvey leading the men and Amanda Deavy in front for the women.
Terry Moynihan, Ben Smith, Tony Hughes and Mick Duggan are other men's category leaders. Women's category leaders are Sally Eason, Amy Burdis, Sarah McNaney and Ros Myers.
Northbrook Road Race Champs 2017
---
Warwickshire Road Race League
A series of short and middle-distance road races starting with the Massey Tractor 10k in April and finishing with the Rugby 10 mile in September.
After 8 races Tony French is the highest placed Northbrook runner with a 6th place in the MV65 category. Highest placed Northbrook woman is Louise Myers with a 9th position in the Senior Women category.
In the team results Northbrook women are placed 5th, Northbrook men are 6th.
Read more ...
Go to Northbrook WRRL web page for Northbrook standings.
---
Committee Meetings
The committee meets every month to discuss Club matters and things that affect you. Read the minutes of the committee meeting on 3 July.
Training Schedules

Wednesday night training schedules for the next few weeks
Northbrook training sessions

Club diary

Current Northbrook club diary of club running events

Coventry Parkrun
Weekly Free 5km Timed Run

It's free but you must register in advance - go to Coventry parkrun web site
---
If you haven't yet come across this web site you might like to check it out. There's lots of useful stuff there, all beautifully presented, and there's a delightful animated video that's both amusing and inspiring.